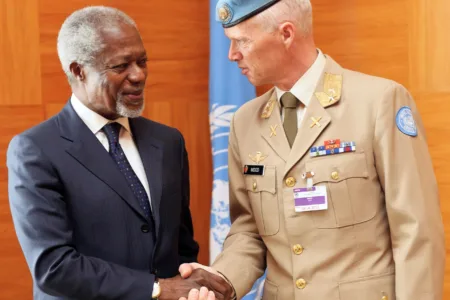 The artwork "Mare Nostrum" by Torunn Skjelland and Vigdis Fjellheim. Curated by Kulturbyrået Mesén for the Nobel Peace Center and Statsbygg, 2015. Photo: Mesén
Organisation
NOREF was established in 2008 as an independent foundation on the initiative of the Norwegian government. We are committed to mitigating and resolving conflicts through informal diplomacy and providing practical support to Norwegian and international mediation efforts. Our staff, currently consisting of around 30 people, work out of our headquarters in Oslo and from a regional office in South-East Asia.

NOREF is a private foundation governed by a board that receives funding from the Norwegian Ministry of Foreign Affairs.

Strategy

NOREF's Strategy 2024–2026 sets goals and objectives for the current strategy phase and defines how it will be implemented. The Strategy is effective from 1 November, in line with NOREF's project year which runs from 1 November - 31 October.
Strategy 2024–2026 (.pdf, in Norwegian)