Syrian women's group meet in Norway
The Syrian Women's Advisory Board (WAB) held meetings in Norway last week. The diverse group of Syrian women was established to advice the United Nations Special Envoy for Syria on the political process. They have been instrumental in ensuring women's representation within the Syrian negotiating delegations and in bringing attention to aspects of the conflict that otherwise risk being overlooked.
The WAB came to Norway at the invitation of the Norwegian Ministry of Foreign Affairs (MFA). The women, coming from across political, geographic, and socio-economic divides, held internal discussions on the constitutional process, the humanitarian situation and called for activating all aspects of UN Security Council Resolution 2254. While in Oslo, they met with constitutional experts, representatives from the MFA, the Storting's Standing Committee on Foreign Affairs, and members of Norway's Permanent Mission to the UN in New York. NOREF's Director Dag Nylander shared experiences from the Colombian peace process, where issues of transitional justice and women's rights were central. On the final day of the visit the WAB delivered their messages and recommendations to Special Envoy Geir O. Pedersen.
The visit coincided with Norway concluding its month of presidency in the UN Security Council. During January Norway chose to emphasize the role and voices of women and civil society. A signature event on Women, peace and security (WPS) and the briefings on Afghanistan and on Syria gave room to and amplified women's voices. In his Syria briefing to the Security Council on 26 January, Special Envoy Pedersen commended the WAB's valuable contributions towards conflict resolution and insights on a broad range of questions related to the Syrian crisis.

The meetings in Oslo were hosted by MFA and organised by UN Women, the Office of the Special Envoy for Syria (OSE-S) and NOREF.
Since 2016, NOREF and swisspeace have been the OSE-S implementing partners for the Syrian Civil Society Support room (CSSR), an inclusion mechanism with an advisory role that reflects Syrian civil society's recommendations and priorities to the Special Envoy.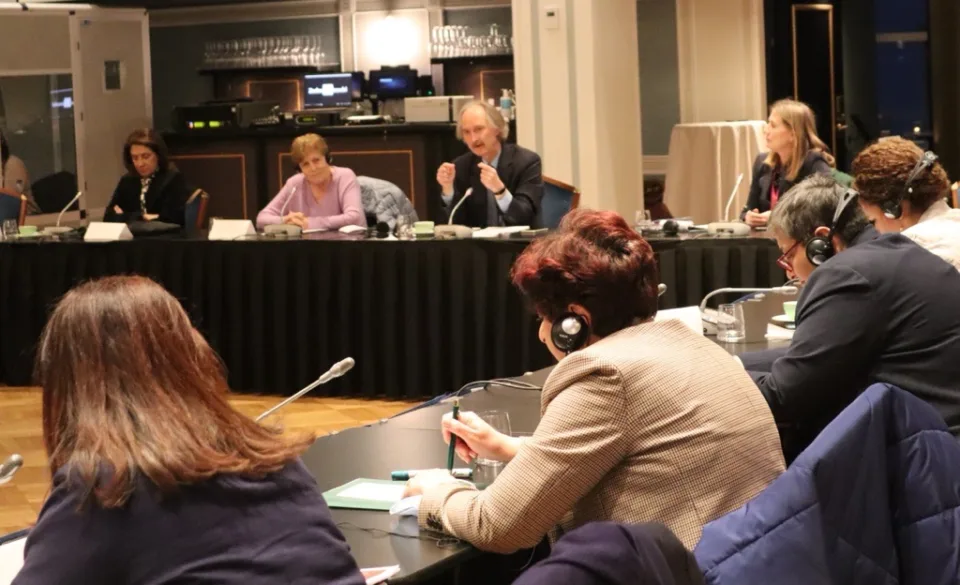 Syrian Women's Advisory Board met UN Special Envoy for Syria Geir O. Pedersen for consultations NOREF