Kenyans launch National Dialogue Process
On September 11-13, some 500 Kenyans from all over the country met to launch an inclusive and structured national dialogue process at Nairobi's historic Ufungamano House. Under the aegis of Kenya's religious leaders, the first National Dialogue Conference (NDC1) convened men and women, youth, people with disabilities and organisations charged with their representation, as well as civil society, trade unions and the private sector. Ahead of the dialogue, NOREF provided preparatory training to 37 women taking part in the process.
The National Dialogue Process is led by a comprehensive group of religious leaders, the Dialogue Reference Group (DRG), consisting of Catholics, Protestants, Evangelicals, Sunni and Shia Muslims and Hindus. The process is guided by a Framework for National Dialogue launched in July 2018. The overall purpose is to create an inclusive dialogue process to effectively address the political and governance crisis in the country and prevent resurgence of violence.
The first conference aimed to "initiate an inclusive dialogue process and effectively address the political and governance crisis in Kenya; generate the content for the dialogue process; outline key principles, strategies and structures for a productive and effective dialogue process."
The DRG leadership has included women and youth in the process, underlining at the opening of the conference that "the dialogue will not succeed if women and youth are not included".
NOREF contributed to NDC1 by supporting the National Council of Churches of Kenya (NCCK) with facilitating and delivering pre-dialogue preparatory training with 37 women from the Kenyan Faith Women Mediation Network together with partners, Fellowship of Christian Churches in the Great Lakes and Horn of Africa (FECCLAHA) and Norwegian Church Aid (NCA). The training consisted i.a. of gendered conflict analysis, messaging on key themes, and strategies for dealing with exclusionary tactics.
Photo: Laura Mitchell/NOREF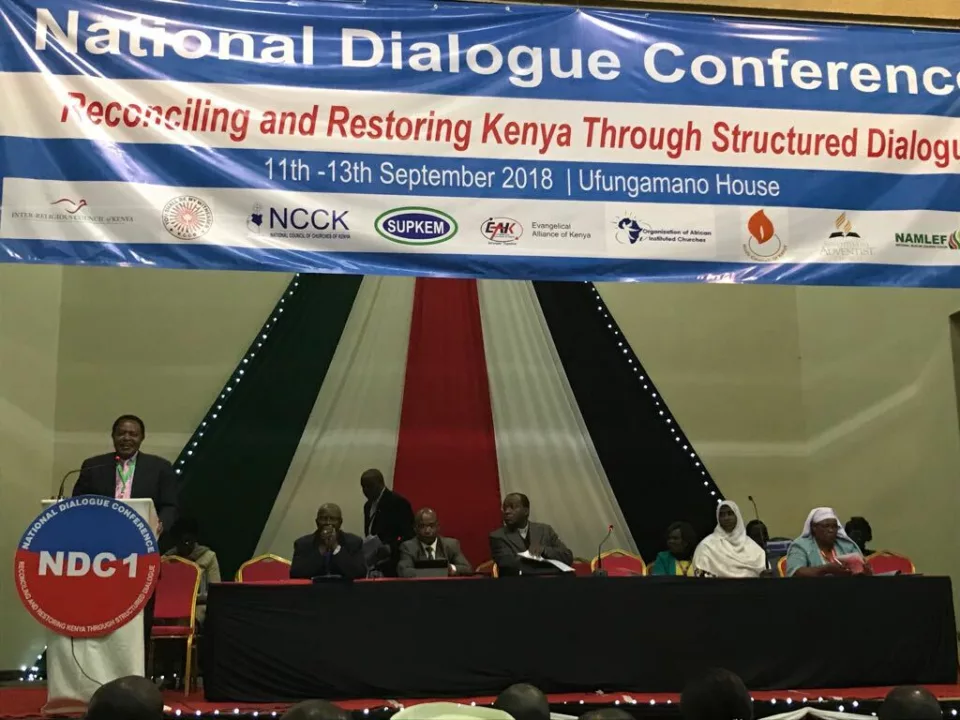 Kenyan national dialogue September 11-13 Laura Mitchell/NOREF