Colombian peace accord at five: a critical time for its implementation
NOREF Director Dag Nylander emphasises the need for continuous engagement from both international and national actors, as Colombia commemorates the fifth anniversary of the signing of the peace agreement between the Government and FARC-EP on 24 November.
Nylander, who led the Norwegian facilitation of the peace process until the signing of the agreement in November 2016, participated today in the official commemorative ceremony, organised by the Special Jurisdiction for Peace (Jurisdicción Especial para la Paz – JEP). The ceremony, centered on the victims of the decade-long conflict, was also attended by Colombian president Iván Duque, former Colombian president and Nobel Prize laureate Juan Manuel Santos, former FARC-EP leader Rodrigo Londoño Echeverri, and UN Secretary General António Guterres.
"Today we commend the great efforts that have been made. Five years after its passing, we are in the middle of a critical period for the implementation of the 2016 peace accord. More than ever, it is essential that all actors strive to protect its achievements and continue their effort to its full implementation", Nylander says.
Nylander also emphasises the importance of the international community's continued engagement with Colombia.
"Reaching a sustainable peace in Colombia requires the continuous and constant engagement of both multilateral partners, individual countries, and non-governmental actors", says Nylander.
NOREF has been engaged in peace and dialogue efforts in Colombia since 2014.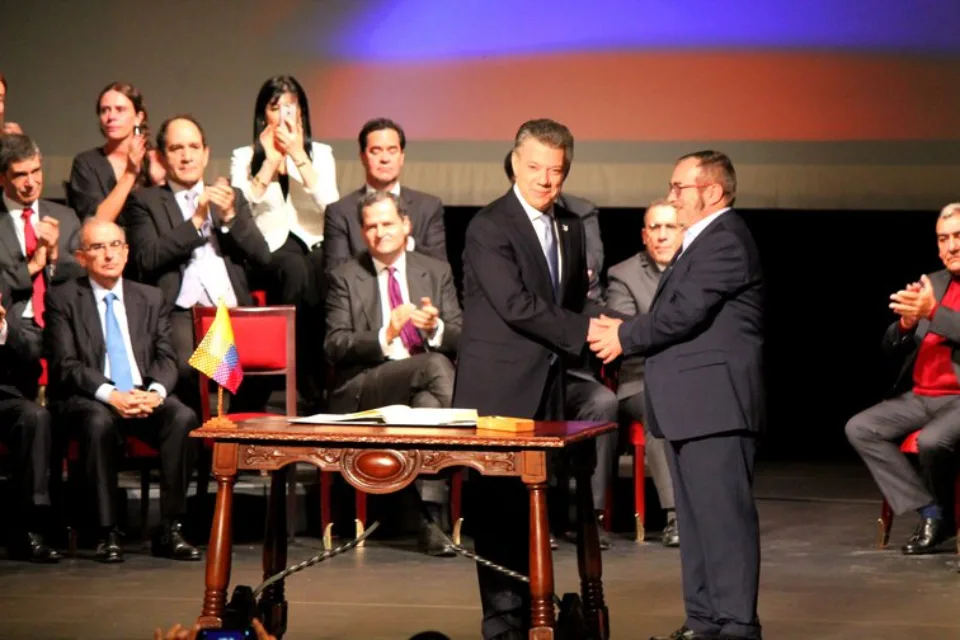 Signing of the peace agreement, 24 November, 2016 By CINU Bogota, licensed under CC BY-NC-SA 2.0