A group of high-ranking officials from the Colombian War College's Course on Advanced Military Studies (CAEM) visited Norway from June 10th to 15th. The visit was co-hosted by NOREF and the Norwegian Defence University College, and builds on a long-term Norwegian engagement with the Colombian military.
A comprehensive four-day programme was designed for the CAEM officials. The group consisted of 24 officers from the Colombian Armed Forces and National Police, the Director of the CAEM, and the Director of the Colombian War College. They were accompanied by the Director and Academic Director of the Social Development Group, NOREF's partner in this project. The group first visited the Norwegian Ministry of Foreign Affairs, where the Colombians were briefed on Norwegian peace and reconciliation policies, with a particular focus on the Women, Peace and Security Agenda and the Norwegian engagement in Colombia. The Colombian Embassy hosted a reception to welcome the group, which was attended by Colombian Foreign Minister Carlos Holmes Trujillo. The officials also received briefings on the participation of Norwegian police and military in international peacekeeping operations, gender in the Norwegian Armed Forces, the Norwegian welfare model, the link between security and the environment and Norway's International Climate and Forest Initiative, current international humanitarian challenges, and a comparative analysis of peace process implementation. The week in Norway included a visit to Jørstadmoen Garrison, where the Colombian visitors were briefed on the Exercise Joint Effort of the Command and Staff College and the work of the Norwegian Defence Cyber Academy.
Norway has been engaged in dialogue with the Colombian military for 19 years. This initiative aims at contributing to a better understanding of the Colombian peace process among members of the country's security forces and building trust among the various sectors of Colombian society. This was the third visit of its kind since NOREF joined the project in 2014, and builds on NOREF's solid partnership with the Social Development Group and the Norwegian Embassy in Bogotá.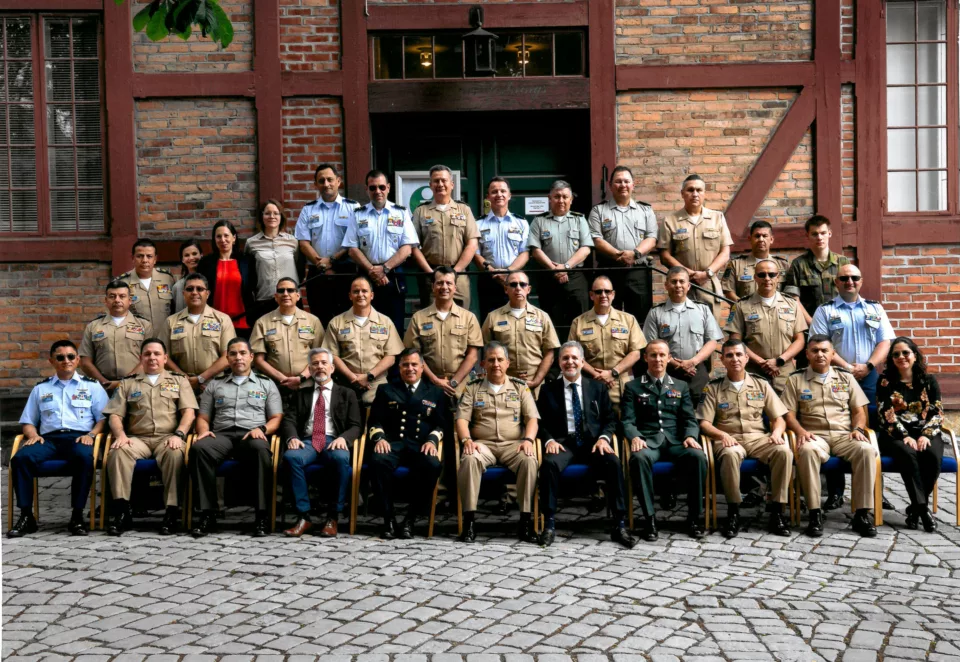 Photo: Norwegian Defence University College