Annual meeting of the Nordic Women Mediators in Reykjavik
The annual meeting of the Nordic Women Mediators (NWM) takes place in Reykjavik from 17 – 19 November 2021. Members from all five Nordic networks come together for a three-day meeting to discuss approaches to including and strengthening women in mediation and peacebuilding efforts. The discussions draw on lessons from the recent events in Afghanistan and from new working methods applied during the Covid-19 pandemic.
As part of the Norwegian delegation, from NOREF, Ingebjørg Finnbakk participates, while Florence Mandelik gives a virtual presentation as part of a panel on hybrid peace mediation during Covid-19. 
This year's annual meeting has three main objectives. First, to take stock and rethink methods to ensure women's meaningful participation in peace processes during and post political shifts. The recent events in Afghanistan will serve as background for these discussions. Second, to elaborate and learn from new and reinforced approaches for mediation during the Covid-19 pandemic such as hybrid mediation and engaging with diaspora. Third, internal discussions relevant to the functioning and visions for the Nordic Women Mediators Network, including with regards to the Global Alliance for regional women mediator networks, launched in 2019 consisting of six regional women mediator networks.
The public opening event on 17 November is a conversation between Mahbouba Seraj, journalist, women's rights activist, and the founder of the Afghan Women's Network and Ingibjörg Sólrún Gísladóttir, a NWM member, the deputy special representative for political affairs and electoral assistance of the United Nations Assistance Mission for Iraq, and a former country representative of UN Women in Afghanistan. Register to get access here: https://eu01web.zoom.us/webinar/register/WN_UVfK07ecQm-GhOdSEXamIw
The 2021 annual meeting is convened by the NWM's Iceland operational partner, the Gender Equality Studies and Training Programme (GEST) at the University of Iceland.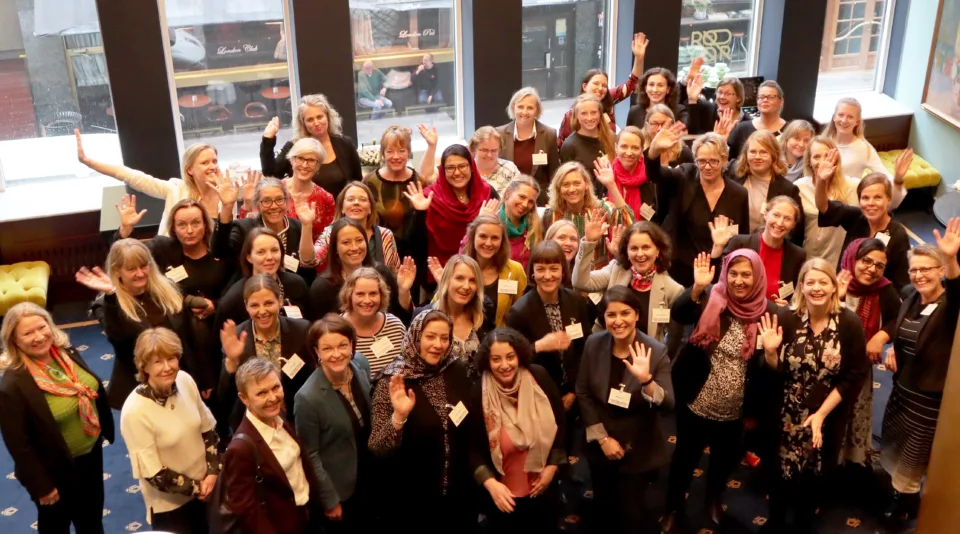 NWM Annual Meeting in Oslo 2019. NOREF