Annual meeting of the Nordic Women Mediators in Copenhagen
The annual meeting of the Nordic Women Mediators (NWM) takes place in Copenhagen on 21 – 22 November 2018. Members from all five Nordic networks come together for a two-day meeting to discuss approaches to including women in mediation and peacebuilding, this year with a particular focus on Syria.
As part of the Norwegian delegation, Marte Heian-Engdal, Florence Mandelik, Siri Skåre and Christine Eliassen will participate from NOREF.
This year's annual meeting has two main objectives: The meeting brings together Syrian women and experts who are deeply involved in the Syrian peace process, and aims to discuss the case of Syria and peacebuilding and women in mediation in general. In addition it sets out to bolster the cohesion of the Nordic network through strengthening personal relationships, substantive discussions of relevant issues, to enhance sharing of lessons learned and strengthen capacities of network members.
The 2018 meeting is convened by NWM's Danish operational partner, Centre for Resolution of International Conflicts (CRIC) and the Danish Ministry of Foreign Affairs.
On 21 November CRIC and Danida also organise a public seminar on Syria entitled "Where are the women?". Read more here: https://cric.ku.dk/events/where-are-the-women/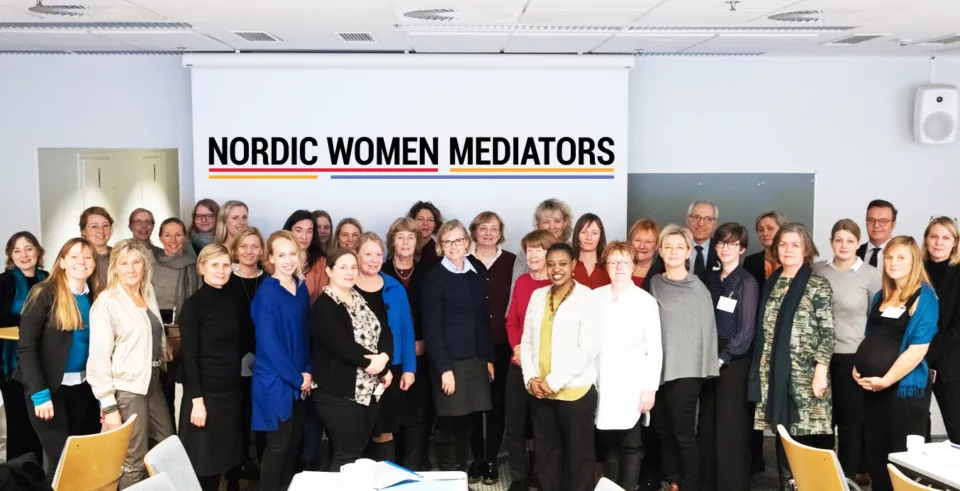 From the 2017 NWM annual meeting in Helsinki